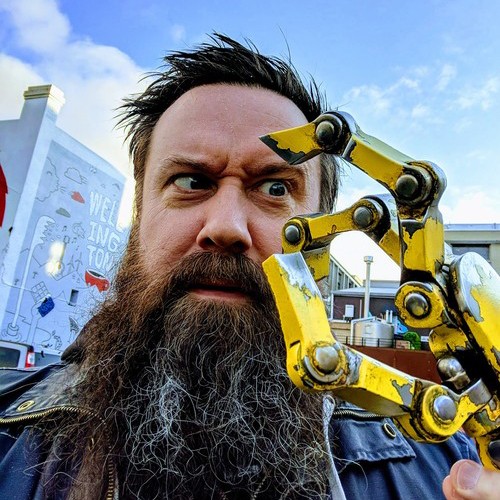 Writer, Artist and Weta Workshop Game Studio Director
In the hands of Greg Broadmore, the imaginary becomes reality. As Studio Director at Academy Award®-winning Weta Workshop's game studio, Greg's artistic visions have been brought to life in Dr. Grordbort's Invaders, the flagship videogame for Magic Leap One.
Launching at Magic Leap's inaugural conference, LEAP conference in 2018, this pioneering spatial computing experience brings a larger than life cast of characters, voiced by Stephen Fry, Rhys Darby and Lucy Lawless into your own home and allows the player to fend off an invasion of life-sized robots that adapt to the unique nature of your space. Created as both a showcase and a forcing function for the new platform, Dr. Grordbort's Invaders highlights what the Magic Leap One is fully capable of.
Greg is best-known for creating the world of Dr. Grordbort —a retro-sci-fi world of elaborate rayguns, rocketships and inter-planetary colonialism, which he created in 2007. He designed and released a line of high-end, collectible rayguns and merchandise based on the universe of Dr. Grordbort and, in 2009, launched an exhibition, "Dr Grordbort's Exceptional Exhibition", which has toured the world via China, Hong Kong, Germany, France, Switzerland and New Zealand.
Since 2002, Greg has worked at Weta Workshop as a designer, artist/sculptor and writer. He was the lead concept designer on Neill Blomkamp's District 9 and a concept designer and sculptor on Peter Jackson's King Kong, The Chronicles of Narnia: The Lion, The Witch and the Wardrobe and The Adventures of Tintin.
Greg has also written and illustrated many books, including four based in the world of Dr. Grordbort: "Dr. Grordbort's Contrapulatonic Dingus Directory" (2008), "VICTORY – Scientific Adventure Violence for Young Men and Literate Women" (2009), "TRIUMPH – Unnecessarily Violent Tales of Science Adventure for the Simple and Unfortunate" (2012) and "ONSLAUGHT".